Cubroid's FAQ section provides answers to our customers most frequently asked questions.
How to set the ARTIBO
---
This is a video on how to set up ARTIBO. Guide Download *Things you need 1. Install ARTIBO Manager app on your smartphone 2. Your wifi id / password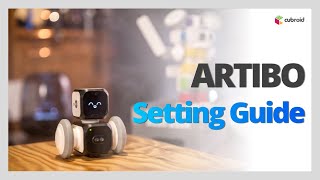 ---
Make sure to update it with the new firmware. (2021.01.05)
---
Download new firmware & guide
https://drive.google.com/drive/folders/1Ik8_0aaR2O0r4hESqYyi1cqGdKLemR36?usp=sharing
Q. What improvements have been made?
1.Stabilize Communication Connection between Artibo Head and Body 2.Add Artibo Gyro Sensor Functionality 3.Software and firmware stabilization 4.Change SSL information associated with the server

Q. Do I have to update the firmware?

A.You must update the firmware (on a regular basis every January) or Artibo will not connect to the Internet.

Q. Firmware update is not progressing. There was an error in progress.

A. Reboot the body and head. Or try connecting the cable to the PC again.

If you have any questions or unexpected errors when updating the firmware, please send an email to info@cubroid.com.
---
---